5-Tips for NO-Drama Holidays
Dreading the yearly argument about whose family to visit?
I've got Five Co-parenting tips before the holidays arrive!
We all want our children to be happy. So before the Holiday season is in full swing, it is essential to have a solid plan for visiting family during the holidays.
The holidays can often intensify already highly charged emotions like old resentments, confusion, and anxiety. Our culture has often painted the holiday season as a time to bond and celebrate as a family but being around our family of origin can bring overwhelming stress and unease to you and your children.
It doesn't have to be that way.
These parenting tips work for married couples or separated couples who are co-parenting.
Wondering how you should go about getting through a peaceful holiday without all the drama and without unnecessary stress on your children?
PLAN!
As a successful mom, you know that any transition, whether it's a business or a family, needs a plan for things to go well (not perfectly, just well).
The key is to prepare yourselves with a parenting plan for the holidays, whether you have a teenager, grade-schooler, preschooler, or a toddler.
Here are five great tips to keep in mind when figuring out how to agree on a holiday plan for your kids this Christmas and New Year.
1. Make sure you come to a consensus on your holiday plan (or custody agreement)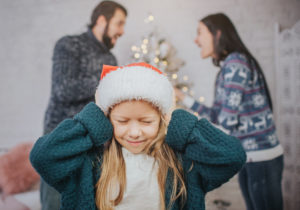 Think of your parenting plan as a guide, the thing you do if you cannot agree. The goal is to use it as a starting point and go from there. And, still, these agreements are about what is best for your children.
Stay calm, be reasonable, and considerate with the other parent as you try to navigate through the priorities you have for your family.
Assess your plans and communicate what is most important to you during this holiday season.
I advise my clients to create three columns on a piece of paper.
Column 1 is "I must have…"
Column 2 is "I'd like to have..." and
Column 3 is "I don't have to have…"
This helps us discern what is really important to us. For example, your mom may be recovering from a recent surgery and can't travel. You may feel it's important to go to her and make this a very special holiday for her.
2. Be flexible with your parenting plan
Your parenting plan or agreement is the baseline agreement. Keep in mind that your partner may want something but before you say "no" without consideration, honestly ask yourself these three questions:
"Can this change benefit me in any way?" Maybe you've been stressed or need some time to do some shopping?
"Can this change hurt my kids in any way?" and
"Do I want to say 'no' because I want to win?"
Even though you may have had many years of holiday traditions, it is essential to be open to changes as the family dynamic has now changed as well.
When your children are very young, you can adjust them and continue them in a new way; or if your kids are older, you can tell stories to reinforce these memories. The focus should be on how to work together so your family enjoys the holidays.
Remember, your children will look to you as an example of how to treat others when conflict arises. Even if that is their mom or dad, they will learn how to cope with your words and actions.

3. Don't make the children decide
You, as the parent, should be planning and agree with your partner as to how your kids should spend their holidays. It shouldn't be the other way around.
It may feel like the more kind thing to ask your children to choose. However, this can be detrimental to your children's emotional health and is an unfair way of dealing with your own internal conflict. It's not okay to have your kids choose for you.

4. Start new traditions as well as keeping old ones
With children that are older, starting new traditions can be a beneficial way for them to learn to deal with change. It allows them to create new memories and look forward to new rituals. Although old traditions might be a reminder of what used to be and it can elicit feelings of grief and loss in your kids, that's okay.
When this happens, it's essential that parents allow their children to express themselves. A parenting tip is to know that words of affirmation like
"I know it's hard to be without grandpa when we decorate our tree."
and then just hold that space.
Resist the urge to quickly grab a tissue or tell them it's all going to be okay. In fact, don't say that. It's not helpful. Children want to know that their parents love them and that their family is okay.
When it feels right, you may want to say something like
"Would it be helpful to talk about it?"
or
"Would now be a good time to call Grandpa to see what he's doing?"
Allow your child to make these decisions. Offer a hug, a cup of yummy hot chocolate, etc. And, as you near the end of the year, it's a good time to look forward to the beginning of a new one.

5. Rest
Seriously.
No, you don't have to cook the Turkey. Lots of restaurants or grocery stores will be happy to cook it for you (and might even deliver).
Yes, you can leave the dishes to soak overnight. And how great to join in the fun of playing a card game instead of sweating over dirty pots and pans. 
Categories